By Marion Brown, Alyne Duthie, Fiona French, Dierdre Doherty & Peter Gordon.
"Wilful blindness is a legal concept which says that if there are things that you could know and should know and somehow manage not to know, the law holds you responsible."

M Heffernan.
Wilful Blindness is well described by Margaret Heffernan in her book of the same name and a talk that she gave for The Kings Fund in June 2014. This talk followed the outcome of the Francis report (focusing on making honesty and transparency the guiding principles for patient safety) and was given shortly before Sir Simon Wessely took up his 3-year position as President of the Royal College of Psychiatrists (RCPsych), 2014 – 2017.
Many people who have suffered from the adverse effects of antidepressants, benzos, and other prescribed psychiatric drugs and treatment have been campaigning for recognition of the very serious issues – given the hashtag of #prescribedharm on social media.  We have experienced very clear evidence of 'Wilful Blindness' from the medical profession – and especially from psychiatry.
This has taken many forms.
A recent blog on Mad in the UK (May 2020) concerned 'Values' and reminded us of a deeply distressing event when a letter was published in the Times newspaper on 25 February 2018 signed by Professors David Baldwin and Wendy Burn (for RCPsych) which stated that; "in the vast majority of patients, any unpleasant symptoms experienced on discontinuing antidepressants have resolved within two weeks of stopping treatment".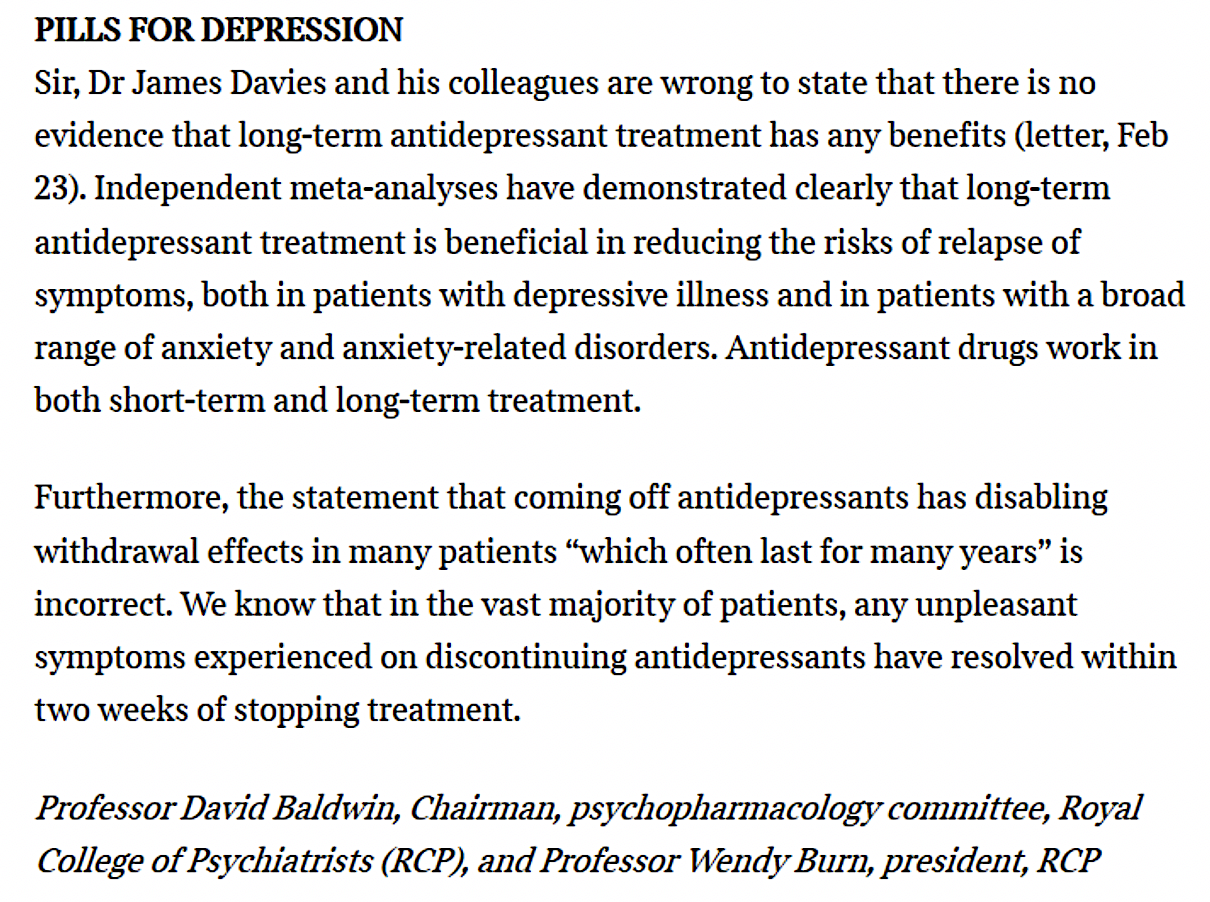 Marion Brown and others personally communicated with Wendy Burn, then president of RCPsych, on Twitter and by email (as invited) around the same time.  Marion made it clear that the effects of coming off antidepressants constituted "a very widespread – and growing – problem" and offered further reading.  Marion concluded that the issue "is growing daily, with RCPsych apparently completely oblivious (or wilfully blinded?)".
Wendy Burn responded saying that "The College isn't being wilfully blind to this, it honestly has not been an issue in my clinical practice".
The problem with this as an answer, and the reason that 'wilful blindness' is an appropriate term, is that senior members of the RCPsych knew, or should have known, about this.  As Marion pointed out in a subsequent email, Professor Baldwin (co-author of 'Times' letter 5 Feb 2018) had provided (on request), as 'evidence' for the statement in the Times, his own 2006/2007 research – which actually documented serious side-effects, adverse effects and 'discontinuation' symptoms – and suicide attempts during the trials.
---
From: Marion Brown
Sent: 24 February 2018
To: Professor Wendy Burn
Subject: RCPsych leaflet: 'Coming off antidepressants'
RE:  Twitter.  Your invitation to feedback directly to you.
Dear Wendy
I am a psychotherapist – and see and meet all too many people who struggle desperately with antidepressants.  This is a very serious and hugely widespread – and growing – problem.  I wrote this article – which sums up where we are at:
https://welldoing.org/article/what-you-need-to-know-about-coming-off-antidepressants   
Thank you for looking at this issue.  It is growing daily, with RCPsych apparently completely oblivious (or wilfully blinded?).
Marion Brown
---
From: Professor Wendy Burn
Sent: 25 February 2018 08:32
To: Marion Brown
Subject: Re: RCPsych leaflet: 'Coming off antidepressants'
Dear Marion
Thanks for this help for an updated leaflet.
The College isn't being willfully blind to this, it honestly has not been an issue in my clinical practice. This may be because I work with the elderly who metabolise drugs slowly and therefore are less likely to have withdrawal symptoms.
I'll also link in with the GP College as most antidepressants are prescribed by them.
Best wishes
Wendy
Professor Wendy Burn
President, Royal College of Psychiatrists 
---
From: Marion Brown
Sent: 27 February 2018 08:33
To: 'Professor Wendy Burn'
Subject: RE: Willful Blindness?
Dear Wendy
On reviewing your reply [above], I was stunned yesterday to read the letter that had been published in the Times – co-authored by yourself and Prof David Baldwin – with its bold put-down and confident assertions.
On enquiry David Baldwin has provided, to a member of the online prescribed harm community, the studies dated 2006 and 2007 to which the Times letter refers.   The actual research was of course carried out (in association with Lundbeck) in the years leading up to report and eventual publication.
The research looked at up to 27 weeks of antidepressant 'treatment'.  It demonstrates clearly that side-effects, adverse effects and 'discontinuation' symptoms are significant and very unpleasant for many of the trial participants.  There were even suicide attempts during the trials.
Now – in 2018 – we are clearly seeing the horrifying results of the folly of believing blindly in, and basing policy, guidelines etc. on the superficial positive interpretation (and vast playing down of negative findings) of such research outcomes.  It would appear that no account whatever has been taken of patient experience information and emerging evidence over all the 15 or so intervening years.
You say that your College is not being willfully blind.   Maybe not directly, but it must surely take some responsibility for the role it takes in shaping policy, guidelines and practices – and especially those recommended for GPs' in their prescribing of antidepressants?  
I have written for doctors in the BMJ about my concerns: 'Seeing better in 2018 … removing the cataracts of Willful Blindness'  http://www.bmj.com/content/360/bmj.k9/rr-6
Kind regards
Marion
---
Professor Burn did not reply.
There followed months of upset and consternation about the 'letters in the Times' and the Media and Social Media became quite taken up with the issues.
Peter Gordon said in the 2019 "From my experience, I believe antidepressants can increase the risk of suicide by causing major changes in impulsive behaviour when people are started on them or try to stop them.  Yet the medical and scientific professions persist in ignoring this — through what I can only call wilful blindness."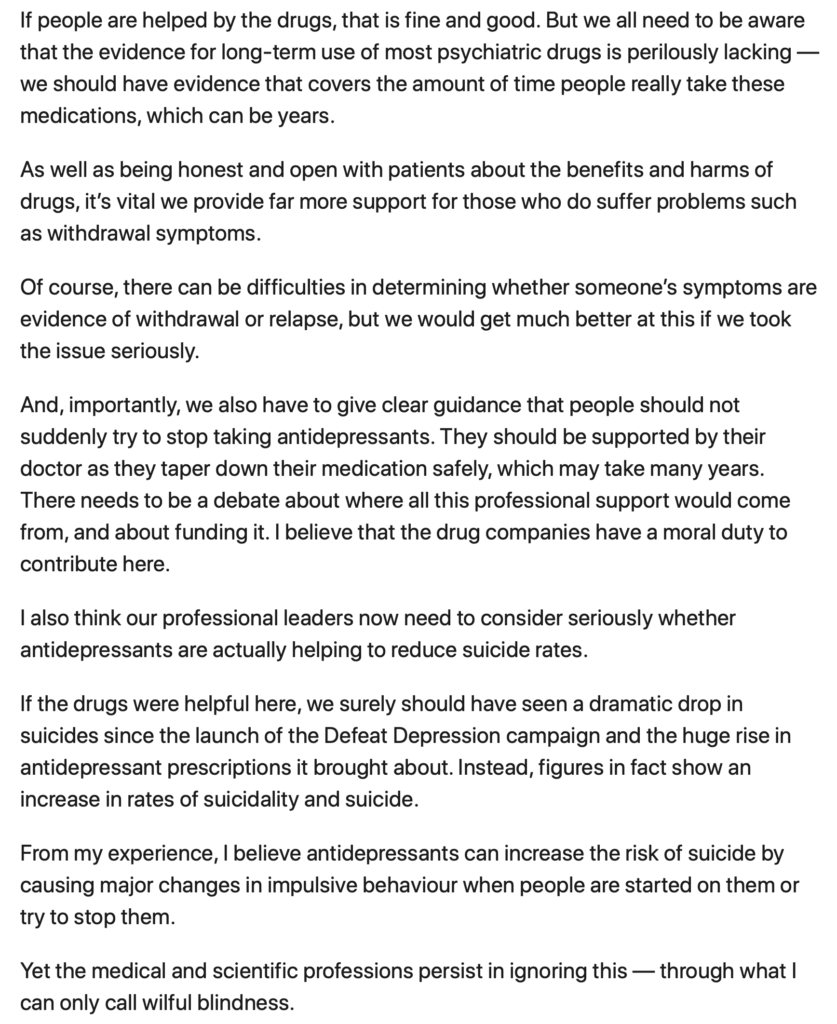 Many of us were 'blocked' on Twitter over the 2019 August bank holiday weekend (and remain blocked) by Professor Appleby, the UK Government adviser for suicide prevention, for raising our very genuine concerns about antidepressants and suicide risks.  'Blocking' and 'muting' patient safety campaigners on Social media, and not acknowledging receipt of nor responding to emails etc. are of course very clear forms of Wilful Blindness – to 'not see' us.
In mid-January 2020 Beverley Thorpe Thomson and Marion Brown collaborated with Peter Gordon to publish "A Timeline of missed opportunities". This film begins by quoting a reference to Wilful Blindness. Further developments, following publication, are being posted within the 'Replies' section.
Wilful Provocation….
There seems to be another (and extremely cruel) manifestation of Wilful Blindness, Wilful Provocation?  This takes the form (on Twitter especially) of actively publicly provoking campaigners who have personally experienced harm (including medication-induced akathisia, suicide bereavement, attempted suicides, sexual dysfunction and all manner of other serious 'medically unexplained' 'functional' problems) and those advocating for them.
The Twitter 'baiters' include health professionals (some in very senior positions) from the UK and other countries, as well as other 'players' who actively participate in 'the game'.  They demand that campaigners 'be reasonable' and 'be kind', whilst provoking the campaigners absolutely mercilessly.  The aim seems quite clearly to ridicule and label them and see them off as 'anti-psychiatrists', 'unreliable', 'pill-shamers', 'anti-vaxxers', 'Scientologists', 'lacking credibility', trolls, bots and so on.   The 'provokers' then claim to be being 'harassed' and 'bullied' by the 'antipsychiatry' campaigners!
For brave individuals who have suffered prescribed harm and have been campaigning, earnestly and passionately, to raise awareness of the issues (with the clear purpose of educating prescribers and saving others from the same sort of damage) there has been shock and astonishment at the 'games' being played out Twitter. Sometimes extremely destructive and hurtful slurs by 'provokers' can be seen to be being condoned (via 'likes', 'retweets' etc) by those in positions of power in psychiatry – who seem intent on destroying the credibility and reputation, individually and collectively, of those campaigning for constructive learning and urgent change.   This can be well evidenced.
A campaigner who herself has experience of very severe Akathisia, says: "It remains a wonder to me, remembering the iatrogenic horrors I was suffering from (not much improved) that the abuse begetting more abuse, and not kindness and immediate action, hasn't yet pushed anyone over the edge. They are psychiatrists. They must be fully aware of the potential consequences of their conduct and they are quite happy to risk the loss of more lives to trust whilst playing the victim. That this is done under the guise of "caring" etc. is sick and contemptible." 
For those who have experienced harm the abuse starts by not being believed by GPs and psychiatrists when in withdrawal.  To then have abuse levelled at them on social media seems to confirm that psychiatry is not interested in learning from its mistakes, only about its preservation. "There isn't a lot of concern for vulnerable patients in evidence if they aren't worried about creating more of us in the future."  As another campaigner put it "our anger has built over many years, with many lives being destroyed. Psychiatrists didn't listen despite hundreds of thousands of permanently damaged people. Some of us care about others being harmed. We want Doctor prescribed brain injuries stopped."
To summarise, it appears that the medical profession has no intention 'becoming aware' of the actual harms that have been and are being sustained, seeming instead to be intent on ignoring, blocking, 'seeing off', and destroying the credibility of, anyone who dares to question the 'medical treatments' they prescribe – and will apparently go to extraordinary lengths to 'not see' and 'not hear' us.   We have seen barely any signs of acknowledgement, by the medical profession, of the massive patient safety issues that are being created by the lack of recognition – Wilful Blindness – of iatrogenic damage, illness, and suicide risks with antidepressants and other psychiatric medications.
They could know – they should know – they do not want to know, and, it seems, will go to extreme lengths to not know.   Where does this sit 'in law'?
Now approaching mid-2020, Wendy Burn's 3-year position as RCPsych president is coming to its end, with Dr Adrian James due to take the baton.  We are led to believe that RCPsych has been working on some form of new guidance for prescribers about antidepressants and withdrawal.
As patient safety campaigners what we want most of all is honest communication and commitment, from all involved, to recognise that change urgently needs to happen:
To avoid repeating the mistakes of the past that vastly underestimated the problems with the prescribing of benzodiazepines – and now the tsunami of antidepressants….
To recognise the Allen Frances point, namely, that we don't know what the long-term use of these drugs does to the brain and that mass prescribing is a "public health experiment on hundreds of millions of people around the world"
To recognise and respect that we are the ones who ultimately pay the cost in terms of suicide and poorer health – and by ignoring and vilifying us no one is served.
To learn from the title of the report into Hillsborough made by the former Bishop of Liverpool, "The Patronising Disposition of Unaccountable Power". Psychiatry acts very much in this way. They have known about antidepressant withdrawal for decades and only through pressure have they recently admitted how severe and long-lasting it can be.
This long-overdue recognition would then open the door to real change – and opportunity to properly explore and learn from patient experience – and indeed to learn from the harms that have been suffered  – and to transform the approach to "supporting the prevention of mental illness" which is a stated aim within the published Charitable Mission of the Royal College of Psychiatrists.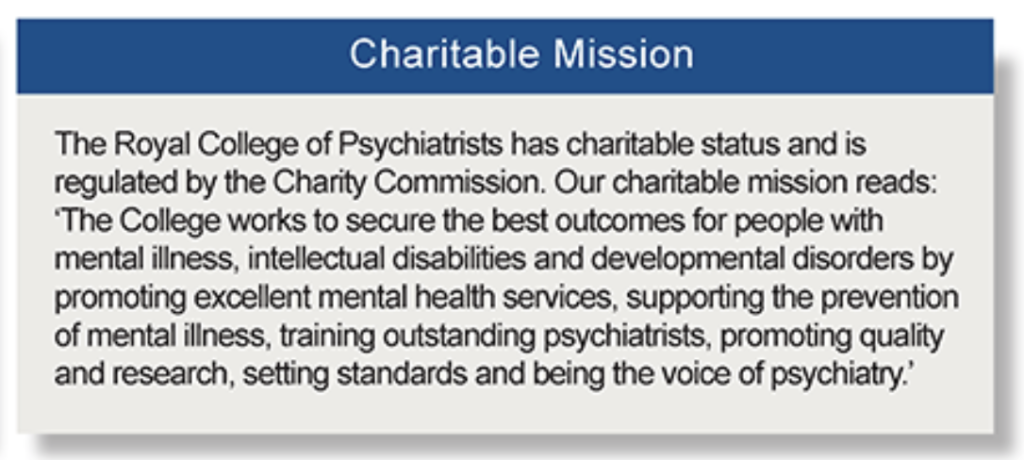 As Richard Smith wrote in the BMJ mid-2016 in his blog, Psychiatry in Crisis:
"Psychiatry seems to have lost its way, as, I believe, has all of medicine. The response should not be to refuse to listen to criticisms, but to listen to and use them as a stimulus to deep examination of current practice"
***