Fundamentally re-thinking UK mental health practice
and promoting positive change
Drop the Disorder! Challenging the culture of psychiatric diagnosis
Due to be published September 3rd, this book takes the themes, energy and passions of the AD4E events – bringing together many of the event speakers with others who have stories to tell and messages to share in the struggle to challenge diagnosis. An essential book for those wanting to look beyond the labels.
Pre order from PCCS books here.
Launch event details here.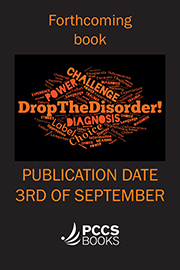 OTHER RESOURCES
A
list
of groups and resources that you may find helpful. If you are aware of other resources that we should consider adding, please let us know by email:
[email protected]
. Thanks.
Mad in America – Mad in America's mission is to serve as a catalyst for rethinking psychiatric care in the United States (and abroad).
The Power Threat Meaning Framework – Towards the identification of patterns in emotional distress, unusual experiences and troubled or troubling behaviour, as an alternative to functional psychiatric diagnosis.
Drop the Disorder (Facebook) –  a group for anyone who is interested in challenging traditional approaches to emotional distress.
A Disorder 4 Everyone – Exploring the culture of psychiatric diagnosis – creating change. Provides events, blogs and other resources.
A free-to-use guide to the healing of psychological trauma is available. It comprises information, approaches to healing and resources together with links to selected clinicians, organisations, projects and support groups. Download the pdf here: Healing Psychological Trauma
Hearing Voices Network – If you hear voices, HVN can help – we are committed to helping people who hear voices. We offer information, support and understanding to people who hear voices and those who support them.
International Society for Psychological and Social Approaches to Psychosis (UK) – ISPS UK is the United Kingdom network of the International organisation ISPS – International Society for Psychological and Social Approaches to Psychosis. ISPS works to promote greater knowledge of the different psychological approaches to psychosis and psychotic experiences – psychodynamic, cognitive-behavioural, arts-based, family and holistic approaches – and their better integration with each other and with pharmaceutical approaches.
The Council for Evidence-Based Psychiatry – CEP exists to communicate evidence of the potentially harmful effects of psychiatric drugs to the people and institutions in the UK that can make a difference.
The Inner Compass Initiative and Withdrawal Project – provides information, resources, tools, and connecting platforms to facilitate more informed choices regarding all things "mental health".
The All-Party Parliamentary Group on Prescribed Drug Dependence will address the growing problem of prescribed drug dependence by demanding appropriate services for those affected, proper training for medical professionals, reduced prescribing through adherence to new and existing guidelines, better data regarding the prevalence of PDD and more research into long-term harms associated with PDD.
More resources are listed here.