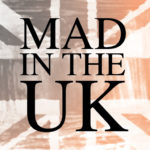 Many of you will be familiar with Mad in America, founded by science journalist and author Robert Whitaker with the aim of providing a forum for 'rethinking psychiatry'. Mad in the UK is one of a growing number of subsidiary sites, including Mad in America Hispano-Hablante, Mad in Asia, Mad in Brasil and Mad in Finland.
Acting in concert with MIA, it will carry UK specific content and provide a voice for UK professionals, service users/survivors, peer activists, carers, researchers, teachers, trainers, lawyers, journalists, volunteers and others who are working for change in the field of what is usually referred to as 'mental health'.
Peter Kinderman launches Mad in the UK, September 6, 2018
MITUK believes that the current diagnostically-based paradigm of care has comprehensively failed, as indicated by lack of evidence for its core tenets, rising numbers of those diagnosed 'mentally ill', and increasing concern about the failure of much 'treatment' to help people recover. MITUK, along with many others, believes that the future lies in non-medical alternatives which explicitly acknowledge the causal role of social and relational conflicts, abuses, adversities and injustices. We campaign for a change in the professional and public discourse about emotional distress and unusual experiences; for support, both within and beyond services, which meets people's real needs; and for social policy which addresses the causes of distress at its roots. MITUK will offer a hub for critical discussion, campaigning and action. In addition, MITUK will provide links to the many other resources, projects and organisations which are also developing positive ways forward.
The MITUK Collective
MITUK is published by a collective, with James Moore as technical link to MIA. The collective is at present composed of 10 people with varying and overlapping backgrounds and interests. 7 of us have survivor experience and 5 of us have MH professional backgrounds (and some have both.) However, we hope that our discussions will move beyond a number of unhelpful binaries that rarely reflect complex reality, such as survivor vs professional, taking vs not taking psychiatric drugs, working within vs working outside services, psychologists vs psychiatrists, and so on. The membership is likely to vary according to time, energy, and other commitments.
Our basic position on biomedical model and diagnostically-based practice is clear, and will guide our content and blogs. The great majority of information sources support the existing paradigm and it is common for people to have entire psychiatric careers, as both service users and staff, without being offered critiques or alternatives. If informed choice is to mean anything, this needs to change. Since we hope to facilitate constructive discussion in all areas, we will occasionally publish more mainstream perspectives for debate. We are aware that these are very emotive issues and the resulting discussions can be upsetting for all parties. We will strive to promote respectful debate, free from discrimination, abuse or personal attack by moderating blog comments and other discussion spaces proactively. (See our commenting guidelines). We will also promote the creative arts including theatre, poetry, cartoons and artwork.
Long experience has taught many of us that the mere act of questioning current orthodoxies, offering alternatives or disagreeing with senior figures can result in backlash. We anticipate that this site will be subject to the same reactions – indeed, some of them were apparent even before the launch. We believe that everyone has a right to their own opinion on these controversial issues. We believe equally strongly that very few people are given enough information for a full assessment of the arguments. Furthermore, we deplore the worrying tendency to imply, or sometimes openly say, that views challenging the status quo should not be expressed at all. This silencing can take various forms, from distorting the arguments or relentless trolling or attributing them to personal/professional ambition and malice, to alleging that these views are intrinsically damaging, shaming, attacking or abusive. This can result in some curious paradoxes. For example, if you spend too long on social media you could end up with the impression that people across the country are being stripped of their diagnoses regardless of their preferences and need for access to services. The truth is that virtually no one is offered an alternative to diagnostic practice, and anyone who protests at the imposition of these categories is at risk of punishment for their 'lack of insight.' Meanwhile, the damage often caused by routine psychiatric practice continues and even escalates. The much-quoted figure of '1 and 4' experiencing 'mental illness' is heading towards 4 in 4, and in a similar trend, prescriptions are soaring with no decrease in the 'epidemics' of various forms of distress. Something is badly wrong.
In this topsy-turvy turmoil, as one paradigm collapses and new ones emerge, MITUK is committed to telling the truth as we see it, regardless of controversy. We are at a historic moment in the history of psychiatry, with a unique opportunity to help shape a better future. We welcome your interest, comments and contributions.
If you are interested in writing a blog for Mad in the UK, read our submission guidelines here.
You can read our Mission Statement here.