Drop the Disorder poetry evenings showcase poems that challenge the dominant narrative in 'mental health' of diagnosis & disorder!
'A poet's work is to name the unnameable, to point at frauds, to take sides, start arguments, shape the world and stop it from going to sleep.' — Salman Rushdie
'Poetry is the lifeblood of rebellion, revolution, and the raising of consciousness.' — Alice Walker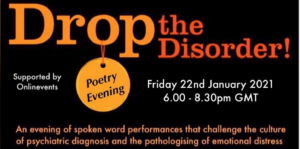 This drop the disorder poetry evening is brought to you by A Disorder 4 Everyone and supported by Onlinevents.
Poetry and spoken word have played a major part in the A Disorder for Everyone events since the first one in October 2016. This will be our 4th online poetry event. We hope evening will connect us in friendship and solidarity.
This is a donation only event with a minimum fee of £1 to maximise accessibility. Please make a donation based on what you can afford.
Hope to see you there,
Jo Watson, Lucy Johnstone & John Wilson
More information and tickets here.
Date And Time
Fri, 22 January 2021
1800 – 2030 GMT
Location