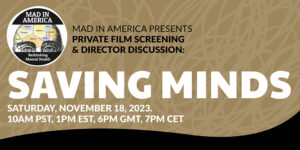 Saturday, November 18, 202310AM PST, 1PM EST, 6PM GMT, 7PM CET
Please join Mad in America for a private screening of Saving Minds followed by audience Q&A with Director Catherine Mullins, hosted by Robert Whitaker.
In this film, two people attempt to reclaim their lives after years of struggling with mental illness, while a group of leading professionals in the field rethinks the current drug-based model of psychiatric care.
Tickets: $10 USD. Funds will support Mad in America's work as a non-profit organization. We understand that not everyone can afford the expense at this time. Please type in the code savingminds for a free ticket as needed.