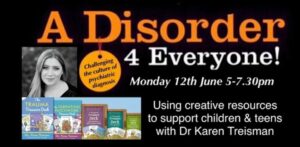 An AD4E attendee shares her review of the "Using creative resources to support children & teens" workshop with Dr Karen Treisman.
Dr Karen Treisman has over 40 different trauma-informed training events for anyone working therapeutically with children and young people, not to mention her numerous books, card sets and toys. 
It would be fair to assume that it would be a tall order to encapsulate such a depth of wisdom and experience into a two and half hour workshop to give an overview of her creative resources. Karen's informal, relational and straightforward manner meant that she did it with aplomb and with a deftness that translates into the resources that she has on offer. 
Many of Karen's resources hit straight to the point, offering simple and straightforward tools that can instil confidence into anyone working therapeutically with children and teens. Such simplicity and clarity belie the psychological insight that it takes to create such tools. 
In a society which still seems chained to the mantra of a medical model when dealing with emotional wellbeing; where diagnoses make mute the story behind the symptoms, Karen's tools offer a different translation which is non-pathologising and, dare I say it, fun.
Reminding us of Dan Siegel's 'MWe' – of a need for interconnectedness between therapist and client – Karen took the workshop participants through some of the tools she uses in order to create an environment for optimal development and growth.
As a therapist myself with a soft spot for creativity, I easily saw how I could integrate Karen's ideas into my existing work. I often use genograms – but how about now I use different toy figures for family members instead of words, as Karen demonstrated? How much more does this open up therapeutically if, rather than the word 'powerful' to describe their father, my client chooses the figurine of a toy soldier? How easily does that create the possibility for more curiosity between me and my client? What is the toy soldier defending or attacking? Does that mean the toy soldier is in a 'war zone'? Suddenly, such a simple change can offer up so much more to explore, recognise and speak about.
Karen posed the question, 'How can we be a limbic whisperer?' so that we are participating in a co-regulating experience with our client and not 'co-escalating' with them? If we are to truly walk alongside our clients, to help them make meaning from their experiences, then Karen reminds us of the importance of honouring the fact that, whilst we may go through the same experience as someone, how it is experienced by each individual will be different, or as Karen suggests, we need to change the old adage of, 'same storm, different boat' to, 'different storm, different boat'.
Whether you are just starting out in your support of children, teens and adults or a seasoned old-timer, Karen's tools are equally valuable, not only to enhance your client's experience but an opportunity for you to inject passion and energy into the way you work. 
You can find all of AD4E's upcoming events and workshops here