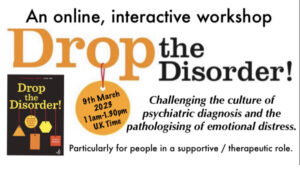 Drop the disorder! – challenging of the culture of psychiatric diagnosis and the pathologising of emotional distress.
In this online workshop (also delivered on 21st September and 21st November 22) Jo Watson presents the arguments against psychiatric diagnosis and offers an opportunity for participants to explore the impact of the medical model narrative on ourselves and those we support and asks what we can do to inform change.
This is based on training that Jo has delivered to many groups and organisations around the world over the last few years and is suitable for those who are new to the debate that challenges medical model thinking.
2.5 hours – CPD Certificate available.
Jo is a psychotherapist, supervisor, trainer and activist. She has worked for the last 25 years with people who have experienced trauma and adversity. Jo is the founder of the Facebook group 'Drop The Disorder!' and runs A Disorder for Everyone events that challenge the medicalisation of emotional distress and explore trauma-informed and socially responsible alternatives. Jo is the editor of the books Drop the Disorder! – Challenging the Culture of Psychiatric Diagnosis, and We are the Change-Makers; Poems supporting Drop the Disorder.