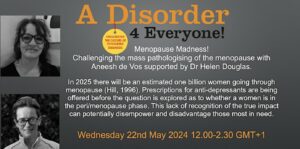 The menopause pendulum has perhaps swung too far in the opposite end of the spectrum; from menopause shampoo to menopause cake, it's currently not easy to make it through a day without sight or sound of the 'M word' in print, on podcasts, social media and TV. And what an epic Trojan horse the topic of menopause has become in the media. The celebrity arena has certainly pursued it and put it on the map. Whilst this is something to be recognised as supportive for all – the other side of the coin is that we are now fed how our menopause should be from a glass slipper. Poverty is not offered a place at the 'doing menopause well' table!
Make no mistake though, menopause is big business and, as a sector, it occupies quite a fortunate position, in that it is almost guaranteed a potentially endless supply of consumers looking for the next fix, pill, patch (or shampoo/cake). Yet HRT shortages rumble on, and accessing testosterone, in the UK at least, remains challenging, if not totally impossible for many.
Fierce debate recently took hold on social media over the use of the word 'deficiency' in relation to menopause. In many respects, it makes perfect sense, and as post-menopausal women, we are technically deficient in oestrogen. That is an undeniable fact for both of us. However, whilst folk argue over semantics and stifle open debate, are we losing sight of the purpose of grassroots awareness-raising campaigns and social activism? What motivational factors sit at the centre of decision-making, and are we seeing ego- and eminence-driven opinion as opposed to evidence-based facts, policies and guidelines? Have we smashed patriarchy or simply replaced one oppressive force with another?
And what of trauma-informed healthcare? Many victims of sex and gender-based violence avoid routine cervical smear tests and gynaecological examinations through very real fears of re-traumatisation. Moreover, the unpredictability of peri/menopausal symptoms can and does reflect the childhood experience of sexual abuse "peri-menopause made me feel out of control, and that was triggering for me" (de Vos & Douglas, 2022).
It's easy to be swayed by headlines; the rise in suicide rates amongst women in the 45-54 age bracket, higher rates of divorce, depression, anxiety, paranoia and rage. Women are leaving their careers we are told, and yet is menopause really the primary driver or the final straw in that decision-making process? According to the NICE guidelines, HRT and not anti-depressants should be the first-line treatment for low mood due to menopause. Similarly, CBT can also be useful in helping women to better manage insomnia, hot flushes and night sweats associated with the hormonal transition.
Yet, countless women are still prescribed anti-depressants as a first-line treatment for low mood and depression during mid-life. Without access to a private consultation at a menopause clinic to provide swift and comprehensive hormonal healthcare, it's difficult to see how in the short term, anything will change. NHS menopause clinics are woefully thin on the ground.
Yet, we really do have a golden opportunity to improve the peri/menopause landscape for those who follow behind us. Writing on the need to seize this opportunity to co-produce truly holistic hormonal healthcare, by empowering patients and clinicians alike, Dr Gayathri Delanerolle writes "we have an opportunity to prevent menopause transforming from a 'silent' to a 'living' epidemic". How very true.
If you would like to join the conversation to help improve both understanding and access to the coproduction needed for women in peri/menopause please sign up for our upcoming workshop 'Menopause Madness! Challenging the mass pathologizing of the menopause' with AD4E on the 22nd May 2024.
References: de Vos, A. & Douglas, H. (2022) Online Inquiry: CSA survivors awareness of menopause. White Paper, p. 4-6. Dignified Menopause Global Initiative.