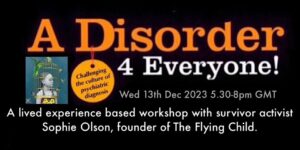 An AD4E attendee shares her review of the "Survivor activist wisdom for those supporting survivors of sexual abuse" workshop with Sophie Olson of The Flying Child.
Sophie Olson's lived experience workshop detailed her painful journey from experiencing childhood sexual abuse to being caught up in a mental health system which exacerbated the harm done to her until she was told at the age of 30 by a psychiatrist that she had a mental illness that was so severe and enduring, she would never live without community support or medication.
A testament to Sophie's spirit was that she was able to share her story in a workshop for AD4E with composure, clarity and containment. Sophie detailed the possible opportunities for intervention that were missed throughout her childhood and offered participants the chance to consider what they would do as a professional in such circumstances.
Why would a child sex abuse survivor self-harm? She asked.
'To be noticed, to get the poison out, to deal with the hurt and anger, because they don't have the words to express what is going on' were some of the answers from the audience.
All perfectly sufficient answers, yet Sophie's addition of 'to feel calmer inside' was a sobering reminder that behaviours that may appear to be 'bad' on the outside often feel so good for the one suffering, and we need to ask the question, 'Why?'
The pessimistic prognosis that Sophie was given by psychiatrists was stark. When we look through the lens of 'symptoms' it would be standard to label her as 'complex'; yet if we accept Sophie's invitation to look at each 'symptom' as a signpost to ask the question 'why' then that 'complexity' reveals the level to which someone is having to adapt in order to survive. Sophie's story shows us that the more 'symptoms', the greater the fight for survival.
Luckily Sophie found a therapist who offered her resources, reassurance and regulation; who reached into her world and helped her find her own way out. 
Through her questions and break-out session, Sophie gave workshop participants the opportunity to explore the way they currently work and, with the benefit of Sophie's insight, make changes to pick up on possible signposts from their own clients. 
Sophie's workshop is such a constructive contribution to helping survivors feel seen and heard. More than that, her work will, and is, changing the future for the way in which we approach people with childhood sexual abuse trauma. As a therapist myself, after attending this workshop, I felt even more committed to creating a space and a community where it is 'safe enough to speak' so that no one who has been a victim of childhood sexual abuse feels ashamed, silenced or, God forbid, pathologised.
You can find details and tickets for Sophie's next AD4E workshop "Survivor activist wisdom for those supporting survivors of sexual abuse" here