New research reveals that involuntary commitment for substance use disorders is ineffective. The study, published in Community Mental Health, investigates the outcomes of patients discharged from the hospital to involuntary commitment for substance use disorders (SUD).
Researchers found that all patients had relapsed and visited the emergency department for issues related to substance use within one year of their release. The authors, led by John C. Messinger of Harvard Medical School, write:
"As of 2018, 38 states [in the United States] had an involuntary commitment for SUD statutes, with 25 states adopting provisions between 2015 and 2018 alone. However, a 30-year review of outcomes for involuntary commitment for SUD revealed inconsistent and inconclusive findings, and experts have questioned the ethics and effectiveness of this practice."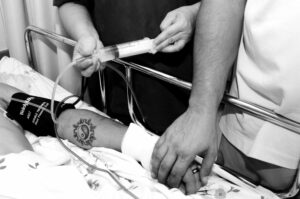 Researchers used data on Section 35 petitions from a 171-bed community hospital to investigate the effect of involuntary commitment on substance abuse. Section 35 is a statute in Massachusetts that governs involuntary commitment for SUD in the state. Over 6,000 people per year are involuntarily committed under Section 35.
While most states across the US have statutes for involuntary commitment for SUD, Massachusetts is the only state that sends patients involuntarily committed for substance use to jail or prison settings. While women are required by state law to be sent to programs operated by the Department of Public Health or Department of Mental Health, several male facilities are located in prisons and run by corrections officers.
The data analyzed ranged between 2016 and 2020 and included 22 patients, which encompassed 28 different encounters that ended in involuntary commitment. One patient was involuntarily committed on six separate occasions, and another patient was twice. The outcome of 6 episodes resulted in patients being sent to an involuntary commitment facility housed within a state prison.
The majority of patients were white (86.4%) males (54.5%), had medical comorbidities (81.8%), were diagnosed with Alcohol Use Disorder (90.9%), with co-occurring psychiatric issues (77.3%) that included diagnoses such as depression, anxiety, trauma, mania, personality disorders, and psychoses.
Messinger and colleagues describe their findings:
"Following involuntary commitment, all patients relapsed within one year. Additionally, patients in our cohort had high subsequent healthcare utilization, with all patients having at least one ED visit related to their SUD and most patients having at least one hospital admission. Patients had as many as 115 total ED visits and 20 total admissions in the first year after involuntary commitment."
In addition to all patients relapsing, two patients in the study died within a year of involuntary commitment.
More than half of the patients relapsed within 60 days of the Section 35 petition being filed. Massachusetts Department of Public Health (DPH) previously reported that involuntary commitments average 20 days, which means that many relapses occurred within days or weeks following patients' releases. These findings align with previous studies that have found that a third of patients relapse on the day of their release from involuntary commitment.
A significant limitation of the study includes its small sample size from a single hospital. Further, researchers could not access information about the treatments provided during involuntary commitment due to the nature of the involuntary commitment facilities.
Moreover, the sample consisted of predominantly white men. However, researchers noted that individuals involuntarily committed for SUD tend to be more often white and unhoused than the general population and comment on how this may reflect the racial disparities inherent to how SUDs are handled. Often, white persons are sent to treatment, whereas racial minorities are directed to the criminal justice system.
Researchers conclude by cautioning against involuntary commitment to address SUDs, given the high relapse rates, morbidity, and mortality following release.
The use of involuntary commitment for mental health-related concerns has been critiqued for increasing suicide risk and decreasing trust in the mental health system. It has also been demonstrated to occur more frequently in patients struggling with psychosis, persons hospitalized before, and those who have experienced economic deprivation.
Although involuntary commitment is often justified as a measure to protect the well-being of at-risk populations, a Norwegian study recently found that areas with low rates of involuntary commitment do not exhibit any increase in adverse events, like patient suicides, fatalities, or an increase in inpatient stays. These findings provide further support against the use of involuntary commitment.
****
Messinger, J. C., Vercollone, L., Weiner, S. G., Bromstedt, W., Carner, C., Garza, J., Joseph, J. W., Sanchez, L. D., Im, D., & Bukhman, A. K. (2023). Outcomes for patients discharged to involuntary commitment for substance use disorder directly from the hospital. Community Mental Health Journal. https://doi.org/10.1007/s10597-023-01112-2 (Link)
Editor's Note: Part of MITUK's core mission is to present a scientific critique of the existing paradigm of care. Each week we will be republishing Mad in America's latest blog on the evidence supporting the need for radical change.