Join AD4E and MITUK for an online showing (plus Q&As) of Paula Caplan's highly acclaimed play 'Call Me Crazy' about challenging psychiatric labels.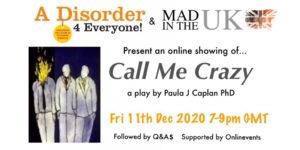 The Evening
A Disorder for Everyone and Mad in the UK, supported by Onlinevents bring you an online showing of 'CALL ME CRAZY' with a top class cast. This performance will be followed by a Q&A session where questions from the audience will be invited. Paula herself will be taking part in the Q&A along with other cast members.
The Play
Is anybody normal? And who gets to decide? And how do they decide? A young therapy trainee on the last day of her internship starts to question the supervisor she has respected and trusted all year. Desperate for answers to her still unanswered questions about what therapists do, in contrast to what they should do, she clashes with her supervisor…and with other interns, each of whom has a deeply personal stake in sticking by the top guy. As the therapists battle away, four patients from their mental hospital watch and listen, unseen. Each time the therapists miss some major point they need to grasp, the patients rush out and do a song, a skit, a dance, a vaudeville act to try to get through to them. Gradually, some of the therapists, to varying degrees, start to learn what the patients have to teach them about the realities of trying to get help in a time of intense need, about what really helps, and what makes a patient's life more hellish than before. Freud's mother, who's never before had a chance to speak her piece, puts everyone in their place, including her own son's legacy.
The Reviews
"…thoroughly entertaining… Careening from gut-wrenching seriousness to vaudeville-style antics… ingenious interchange of a dramatic play with comic sketches and musical numbers gives both satiric and somber force."
The Off-Off-Broadway Review
"Bold, vibrant, funny, and disturbing…leaps to life…a richly provocative theatrical experience, entertaining, enlightening and profoundly disturbing all at once."
New Bedford Standard-Times
More information and tickets here
Date And Time
Fri, 11 December 2020
19.00 – 21.00 GMT
Location