On December 11, 2018, a Welsh charity, www.PAST.Wales arranged an awareness day to be held at the Senedd in Cardiff, home of the National Assembly for Wales. This presented an opportunity to discuss and debate issues of iatrogenesis, dependence, overprescription and prescribed harm within earshot of Welsh Assembly Members. The Assembly has devolved authority for health and can act independently of Westminster, so this was a chance to directly address policymakers. A relationship to the Assembly Members was provided by a petition to the Welsh Assembly raised by campaigner Stevie Lewis, which called for recognition and support for prescribed drug dependence across Wales.
Part 1 – The Presentations
Speakers were Dr David Healy, Stevie Lewis and myself and the event was arranged and hosted by Aled Jones. Aled, whilst working within recovery and substance misuse services, heard many speaking of the lack of understanding or support for withdrawal from medications. His own disastrous encounter with antidepressants and pain medication gave him the awareness of the issues that can arise from their use.
Dr David Healy speaking first, focussed on identifying the context and why pharmaceutical drugs such as antidepressants constitute a political problem. He explained the endemic nature of ghostwriting in clinical trials of psychiatric drugs and that these anonymous writers do not have access to the original trial data. This lack of access to the original data permeates the system such that neither peer reviewers, regulators or treating physicians can access the data they need to make decisions about safety or efficacy. He discussed the clinical trials of antidepressants including Prozac (a drug promoted as one that would make us 'better than well') noting that Prozac distinguishes itself as having more negative trial outcomes than any other antidepressant drug. Despite these negative outcomes, the ghostwritten trial reports mostly conclude that the drugs are effective and these are the reports that are used by regulators such as the FDA in the US and MHRA in the UK to licence the drugs for use. He also described how readily patient experiences are discounted and those that experience difficulty are labelled as 'rotten apples' when actually, the problem is better conceptualised as a 'rotten barrel' problem.
Speaking next was Stevie Lewis, a campaigner with lived experience of antidepressant dependence and withdrawal and someone who had endured a lengthy period of withdrawal and an extremely unpleasant and lengthy post-withdrawal syndrome. She discussed systematic work undertaken by herself and colleagues Dr Anne Guy and therapist Marion Brown, that identified key failure points in the prescribing of antidepressant drugs. These failure points encompass critical moments in the doctor/patient relationship where chances to provide informed consent or to address potential dependence issues are missed. Stevie also reminded attendees that 158 lived experience accounts had been shared through the Scottish and Welsh petitions. She related that two of the people who had submitted accounts for the Scottish petition had recently taken their own lives, unable to endure the physical and emotional toll that withdrawal had taken on them and the disruption to their lives.
The first, 28-year-old Katalin Balint from Hungary, wrote the following in her submission to the Scottish petition. She took her life on October 1, 2018:
The second, Jo Denison ended her life on November 2, 2018, aged just 35. In her petition submission, she said: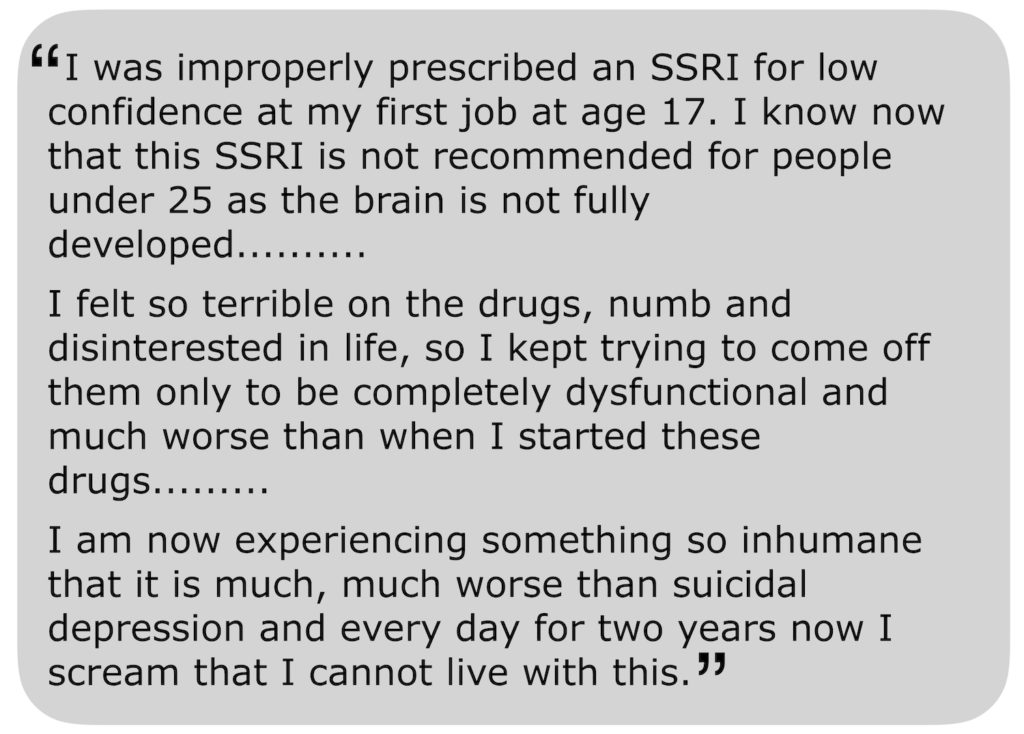 Stevie reminded us all that we must hold two truths in mind with antidepressant drugs. One is that they help people and save lives, but the other reality that we must confront is that they can harm people and take lives too.
For my part, I briefly shared my own experience of being prescribed and then withdrawing from an antidepressant and my recent involvement in campaigning and awareness-raising. I went on to outline why the official guidelines from the National Institute for Health and Care Excellence (NICE) are of little use for anyone who wishes to withdraw slowly and safely. I addressed some of the options available to those who do wish to withdraw slowly and went on to talk a little about potential solutions including Tapering Strips developed in the Netherlands and written about in a study in the journal Psychosis.
Following the formal talks, an audience question and answer session was held in which we discussed more about the link between talking therapies and increased prescribing through referrals, functional medicine as opposed to the medical model and how we can raise more awareness and try to deal with the problems discussed. We also heard moving personal testimonies from attendees of their experiences of taking and withdrawing from a range of psychotropic drugs.
Part 2 – Audience Q&A
I think we all felt that it would have been good for more Assembly Members to be present throughout, but the fact that these issues were being publicly discussed on their turf was a significant achievement.
In parts of Wales, one in six adults takes antidepressants and this is higher than England or Scotland. Support for anyone struggling with dependence or withdrawal issues is patchy and inconsistent and much of it depends upon whether your doctor has had any prior experience of such difficulties. North Wales has a prescribed medication service which joins a very small number of officially recognised support services, including the R.E.S.T. service, previously written about on Mad in America. Other support is most commonly in peer-led initiatives such as P.A.S.T Wales, The Bristol and District Tranquilliser Project and Oldham Tranx which arose from an initiative led by veteran benzodiazepine awareness campaigner Barry Haslam.
In the UK there does seem to be momentum building with a review into drugs that can lead to dependence led by Public Health England with support from the Council for Evidence-Based Psychiatry, more reporting on TV and in newspapers of the problems of dependence and withdrawal and more engagement on social media with the Royal College of Psychiatrists and other campaigners.
What action the Welsh Assembly takes in response to this thorough airing of an issue that is slowly gaining mainstream attention remains to be seen, but I personally feel that we have taken a huge step forward in confronting the problems associated with a less than cautious approach to prescribing.